A jack of many hobbies and a master of none - spending lots of time on amateur/ham radio, running, and technology.
Tuesday, February 26, 2019
Posted by

Brick O'Lore
at 12:42 PM
0 comments


Thursday, February 22, 2018
So
that change
didn't go as smoothly as I had hoped... turns out the latest firmware for the
ASUS RT-AC3200
has a 2.4 GHz bug. It took me a long time to figure out that was the problem.
I noticed the issue on some of my IoT devices and my wife's hand-me-down laptop. I assumed it was a problem with the devices. Basically, I kept getting a bad password error. I ended up trying a lot of different things - laptop driver update, deleting all the network settings, resetting the IoT devices to their default config, changing the SSID, etc.
It wasn't until I realized I was having the problem on my laptop and my iPhone 8 that I started thinking the router was the issue. Originally I had those devices configured to use 5 GHz only, so they never experienced the problem. After a short search, I found this thread:
2.4GHz band issues with RT-AC3200 firmware 3.0.0.4.382_50010
. Bingo! That was exactly my problem. I rolled back to
an older firmware version
and everything has been working like a champ.
On a happier note, I returned my Comcast cable modem, since I had purchased the
NETGEAR CM500-1AZNAS
. I walked in the retail store, they scanned the label on the modem, and printed a receipt. It took less than 30 seconds. Perfect!
For an upcoming post, I may list all the devices I have connected and note which ones were easy to migrate to the new SSID. (Spoiler Alert - the inexpensive Smart Plugs I bought have some horribly written instructions.)
Posted by

Brick O'Lore
at 12:17 PM
2 comments


Friday, February 9, 2018
I mentioned I was changing my network at home - getting my own cable modem (
NETGEAR CM500-1AZNAS
)
and trying to decide what to do for wireless. I ended up ordering the
ASUS RT-AC3200
.
The specs look great and I'm optimistic that I can move it to a slightly more central location. The combination of the two changes should get me great coverage throughout the house. (And, if that's not perfect, I could look at the
ASUS mesh networking
-
AiMesh
.)
Also, I'm a fan the WRT software and like the ASUSWRT version as well. You can play around with an on-line demo of the software
here
.
Hopefully I can get everything moved to the new setup over the week-end. I already announced a scheduled network maintenance/outage for Sunday. Guess folks may have to read a book or something for a few minutes.
Posted by

Brick O'Lore
at 12:50 PM
0 comments


Tuesday, January 30, 2018
I dropped my Comcast Triple Play down to a Double Play - no more phone. This means I don't need their cable modem any more. I ordered the
NETGEAR CM500-1AZNAS
and it's on it s way. (I figure by the time I need something beyond DOCSIS 3.0, I'll be able to get it cheaply.)
The bigger question is what to do for wireless since I won't be using the Comcast modem/router/wireless device. I very tempted by the
NETGEAR Orbi Whole Home Mesh WiFi System with Tri-band
system. Lots of reviews are very positive and I like that both units have Ethernet ports on them.
Posted by

Brick O'Lore
at 4:20 PM
2 comments


Friday, January 5, 2018
Seeing another deal on an Alexa enabled plug - $12 with code 7FRQNW4M
. This is one is a little different in that it includes energy monitoring/tracking.
Which leads to my public service announcement for the day...
I've been snagging all these Alexa enabled devices and one thing they seem to have in common is that they only use 2.4 GHz. This is the crappy, crowded, interference ridden, only 3 non-overlapping channels band. That's bad, but workable (generally the range is better), so not the end of the world. But, as a general rule, make sure all your important devices (Smart TV, streaming devices, laptops, etc.) are using 5 GHz.
Deal via
Kinja Deals
.
Posted by

Brick O'Lore
at 12:07 PM
0 comments


Thursday, January 4, 2018
Posted by

Brick O'Lore
at 9:08 AM
0 comments


Wednesday, July 19, 2017
I am a Comcast customer, so I have installed their certificate that lets me easily connect to their hot spots that are almost ubiquitous. The downside is the marginal associations to a network that aren't actually usable.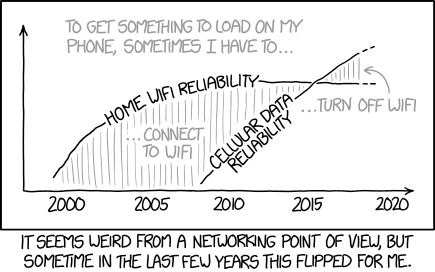 Posted by

Brick O'Lore
at 12:13 PM
0 comments


Saturday, August 20, 2016
Posted by

Brick O'Lore
at 9:19 AM
1 comments


Wednesday, December 30, 2015
Worst Wi-Fi password ever? I think they are taking their clues from the
Slashdot.org
guys.
Via
Dustbury
Posted by

Brick O'Lore
at 12:04 PM
0 comments


Thursday, December 24, 2015
I'd like to check-out the internet, please. Libraries are going beyond providing internet access at their buildings by loaning hot-spots.


Posted by

Brick O'Lore
at 10:25 AM
0 comments